THE GUEST EXPERIENCE = YOU! 
We are evolving the Guest Experience, when you visit
KLINE
NISSAN
you will experience an atmosphere that will leave you asking "am I reeeaally at a car dealership?"
We do not hire the stereotypical sales person, in fact we avoid them - just like you do. At
KLINE
NISSAN
we take a different approach when adding to our
KLINE NISSAN
FAMILY, we search for the same kind of person out customers want to do business with. We don't just hire anyone, instead we recruit amazing people who are naturally wired with an exceptionally positive attitude. We search for people who get gratification from helping others, and we look for people who want to be a part of something special. We believe the culture we have built at our dealership is something different, something big, something very special to all of us who are lucky to be a member of the
KLINE NISSAN
FAMILY.

Why Twin Cities Drivers Buy and Service their Vehicles with Kline Nissan in Maplewood
There are a lot of things to worry about when buying a car, and here at Kline Nissan, we take care of all of them. Whether you're looking to invest in one of our hundreds of new Nissan vehicles or a like-new model off of our extensive used car lot, there's something for every Twin Cities driver here at our Maplewood, MN Nissan dealership.
We offer top-quality SUVs, sedans, trucks, vans and more at an affordable price thanks to our skillful and patient financing team, and they're all backed by the professional skills of our highly-trained Nissan car repair center technicians and genuine Nissan car parts. Even our used inventory boasts the cream of the crop of the Twin Cities area with our rigorously-tested, background-checked Certified Pre-Owned Nissan models.
As a local, family-owned dealership, we treat our customers like the neighbors they truly are and offer each and every shopper our undivided attention, the utmost respect and the personable care and concern that only comes from a business that's truly invested in its community. Kline Nissan is part of the extended family of Kline Auto World, which has served the Twin Cities and metro area for over four decades and currently consists of both Kline Nissan and Kline Volvo, located right here in Maplewood.
Feel free to stop into Kline Nissan, parked at 3090 Hwy 61 N., and see for yourself how a wide-ranging car inventory, a highly knowledgeable sales and service staff as well as a friendly face makes the path to car ownership a smooth and enjoyable ride.

---
Kline Nissan is a local, family-owned dealership that is part of
Kline Auto World
. Kline Auto World has been a dealer in the Twin Cities and metro area for over 40 years, having  been a dealer of Mitsubishi, Suzuki and Oldsmobile in the past. Kline Auto World currently has two dealerships, Kline Nissan and Kline Volvo, located in Maplewood, Mn. All of the organizations associated with Kline Auto World work hard to treat customers with second-to-none service.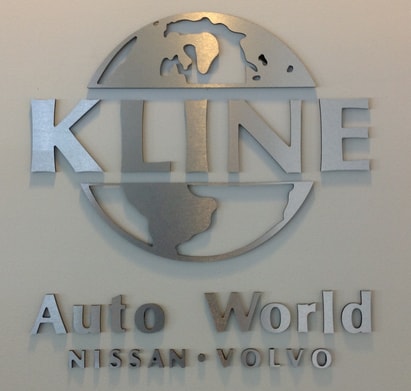 ---
"Not only will I recommend Kline to my family and friends, I will remain a lifetime customer as long as I continue to live in the Twin Cities metro area. I only wish other companies could provide the level of service and satisfaction that I receive at Kline. Thank you, Kline Nissan, for going above and beyond the "satisfactory" level most local companies provide, and please don't change the way you treat your customers! You guys are the best in the business!" - Kathy Baughman, Dealerrater.com